Live music adds a memorable touch to your cocktail party, reception, brunch, fund-raiser, celebration, or special event.
Vox Flutes' repertoire consists mainly of light classical, baroque, and jazz pieces arranged with C flutes, alto flutes, and piccolo. This provides a wider range of sound and tone quality and a more enjoyable listening experience for the audience. The Atlanta-based duo also plays Christmas holiday selections.
Originally formed in 1996 as a quartet, past Vox Flutes performances include:
the annual Atlanta Symphony Associates' Decorators' Show House for 10 years
Christmas at Callanwolde, the Callanwolde Fine Arts Center's annual holiday fundraiser
a special all-Mozart program prior to a performance of "Amadeus" at the Georgia Shakespeare Festival
as part of the 2003 and 2005 "Symphony Celebration" events at the Woodruff Arts Center
the 2009 Southeastern Flower Show
in Sacred Tapestry's 2008 Summer Concert Series
the Alliance Children's Theater 2006 & 2007 Christmas Showhouse
the Concerto membership group of the Atlanta Symphony Associates
the "Hungry Ear Coffeehouse"
the Roswell Fine Arts Alliance
several local Borders and Barnes & Noble stores
private weddings, fund-raisers and other events
The group also presented an educational program for Cobb County students at Dickerson Middle School in the spring of 2004.
---
Bios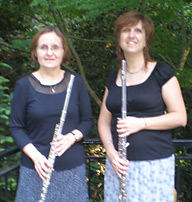 Teresa and Kate met in the Flute Choir of Atlanta, which has appeared at National Flute Association annual conventions in various U.S. cities and in the Piccolo Spoleto Festival in Charleston, South Carolina. Both recorded on FCA's Celebrations CD.
Teresa Lind currently plays with both the FCA and the Atlanta Flute Ensemble. She played 2nd flute with the Cobb Symphony Orchestra (now the Georgia Symphony Orchestra) for 17 seasons and in her church orchestra. She majored in applied music in college, where she played with the wind ensemble and was briefly the principal flute with the Macon Chamber Orchestra, and has studied with Paul Brittain. Teresa is a retired paralegal specializing in commercial title insurance.
Kate Siegel currently plays flute and piccolo with the Atlanta Philharmonic Orchestra and has also played 1st flute in the Callanwolde Concert Band and with the Callanwolde Woodwind Quintet. During high school, she toured with the Milwaukee Pops Youth Band in Mexico and at central Florida theme parks. Kate is a senior editor at WebMD and a freelance designer and editor.
---
Booking & Contact
Standard rate is $250 for a 2-hour performance (including two breaks), $100 each additional hour. Wedding ceremonies are priced after consultation. No amplification or special lighting is usually needed.
Contact Vox Flutes by e-mail or call 404 521-3767.